11 Best Essential Oils For Humidifiers in 2023
Aparajita Tiwari
·
July 17, 2023
This is a list of 11 best essential oils for humidifiers in 2023.
In this list, I am going to talk about essential oils that will completely transform your space and help deliver the therapeutic benefits too. 
But for those of you, who are new to aromatherapy you must be wondering why should you use essential oils in humidifiers. 
Let me first explain that briefly. 
Essential Oils In A Humidifier Benefits
Amongst its various uses, aromatherapy is a very popular domain of usage, and the most common way of usage is through humidifiers or diffusers.
Essential oils in a humidifier are a match made in heaven: not only does the humidifier adjust the moisture levels in your living spaces, but it also brings with it the energy of the essential oil it carries. 
It's the quality-of-life improvement you don't know you need, till you actually get it.
The energy, the aura of healing they bring with them are powerful to say the least, and there's one for everyone.
Have respiratory ailments?
Feeling fatigued?
Stress, anxiety, and depression getting the better of you lately?
From head-to-toe, essential oils have got you covered.
Now you've probably got more questions than what you began with:
Is it advisable to use essential oils with humidifiers?
What are the best humidifier essential oils?
What is the best essential oil for humidifier when sick?
Before I answer that, I am going to reveal my curated list of best humidifier essential oils. 
11 Best Essential Oils For Humidifiers In 2023: Curated By Experts
If you start looking up on internet today about best essential oil to put in humidifiers, there are plenty of options to choose from.
You would also be intrigued to know that essential oils in a humidifier can serve a different purpose than essential oils when applied topically or when ingested.
So here we go.
1. Lavender Essential Oil
Lavender essential oil is one of the most popular choices around, and for good reason. Its scent is renowned for being a good calming agent as it helps reduce your stress and anxiety levels, thus uplifting your mood.
If you are an insomniac, you stand to gain from using lavender essential oil with a diffuser as it is known to help with inconsistent sleeping patterns.
2. Chamomile Essential Oil
Derived from the chamomile flower, chamomile essential oil has a floral aura that smells as pretty as the flower it's obtained from. 
It's a big hit among children too, as the aroma is known to support relaxation, brings ease to restlessness and provides a sense of comfort, all of which support restful sleep for children.
It can help allergy patients get relief from their discomforts by soothing their otherwise irritated airways.
Derived from the leaves of the Patchouli plant (Pogostemon Cablin), it has a rich, earthy, woody aroma. This rich aroma brings with it, grounding and balancing properties that can help one relax, get clarity of mind.
Dream about creating a warm atmosphere in general, the kind that can put you at ease.
Its antibacterial properties also help it act as an air purifier as well, keeping you safe from airborne bacteria, mold as well as other unpleasant odours in your living spaces.
The adage "stop and smell the roses" was not coined without reason, there are benefits from doing so! Rose essential oil can help decrease blood pressure, heart rates, and even lower your anxiety levels.
So those of you looking to have some peace of mind, rose essential oil must make it to your bucket list of "essential oils in a humidifier I must try".
Derived form Melaleuca, or the Australian tea tree shrub, tea tree essential oil is popularly dubbed as a "Medicine cabinet in a bottle". Tea tree essential oil is loved for its air purifying properties owing to its antifungal and antimicrobial contents. This means it not only helps rid the air of bacteria, but it also does so with a fresh, pleasant scent. 
Tea tree oil diffusions are also proven to help ease cough and nasal congestions while sleeping.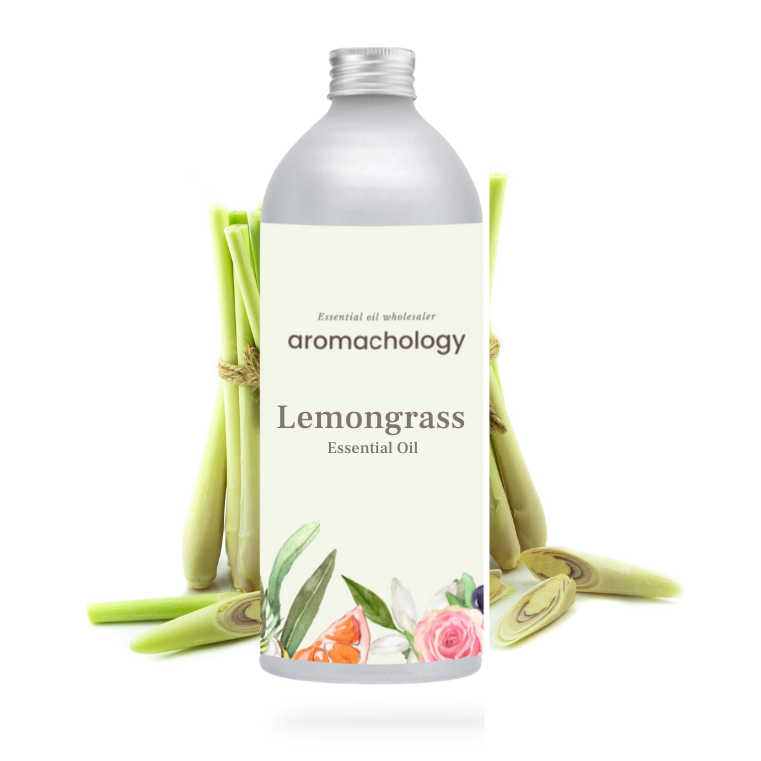 Not to be biased, but citrus plants have a special place in my heart as it is.
So, it's no biggie that lemongrass has made it to this list of best humidifier essential oils pairings you must try. When diffused, lemongrass's citrusy scent really lifts the mood around and is guaranteed to help you relax and elevate your energy levels.
The citronellal content is abundant in the oil, making it a natural inspect-repellent. Lemongrass oil basically lifts your mood, keeps the bugs away, and it smells good while doing all of that. I'm surprised more people aren't biased towards the citrus side of fruits already.
Hailing from the Orange family, Bergamot is yet another citrus entrant in the list and for gooood reasons.
When diffused, bergamot essential oil is a literal freshener. Whether it's the air around you with its unpleasant odours or its your spirit that's a little down and out, it can refresh everything.
Even amongst citrus scents, that of bergamot is a little spicy comparatively, giving it a unique profile.
Bergamot's strength lies in the fact that it's known to help with depression and anxiety symptoms as well.
Also known as Olibanum, Frankincense oil is obtained from Boswellia serrata, a sub-family member of Burseraceae, an aromatised resin which has commonly been used in perfumery, soap making and room sprays. Frankincense is derived from the French word "Franc, ences", meaning noble incense. 
This rich incense often finds use in aromatherapy as it helps create a calming and grounding environment, which promotes a sense of tranquillity and serenity. The aroma is a hot favourite among yoga and meditation enthusiasts as it helps enhance focus, clarity, and a sense of spiritual connection.
The aroma has respiratory benefits, helping clear your airways, ease breathing and improves your overall respiratory health.
You might not have heard of Marjoram, but you might know it's more popular cousin, Oregano. Hailing from the Mediterranean, both Marjoram and Oregano are known for their use in cooking and are popular for their spicy, herbaceous fragrance. While Oregano comes across as a little too strong, Marjoram wins favour with its milder nature. 
Diffusing Marjoram oil can help you diffuse the tension in your head and help you enter a peaceful, tranquil state of mind. Its mild nature can be a welcome change from otherwise stronger scents from the usual choice of oils.
The possibilities of creating blends, however, are huge with Marjoram. Chamomile, Lavender, Bergamot are possible options to mix with Marjoram for a unique, destressing experience.
The most abundant citrus fruit has plenty to offer as an essential oil to be diffused. As is characteristic of citrus fruits, lemon's bright, citrusy aroma is known to boost energy levels, uplift moods and in general create a refreshing and invigorating atmosphere.
It is very adept at neutralising unpleasant odours and can very easily help freshen up living spaces.
Antibacterial and microbial properties ensure it can function very well as an air purifier as well by eliminating airborne bacteria, viruses, and other pathogens.
It is also known to help ease symptoms of morning sickness such as nausea and vomiting, making it a great choice for women going through pregnancy.
And that brings us to the last oil in the list. 
Like tea tree essential oil, eucalyptus essential oil too, is packed with health benefits. Its invigorating scent coupled with antifungal and antimicrobial properties makes it a compelling choice to use in diffusers and humidifiers if you suffer from respiratory ailments such as nasal congestion, cough and cold. Eucalyptol is the chemical X of this oil, which is also found in a host of OTC medication for colds.
Now that you have learnt about the list of oils for overall wellbeing, I am going to also talk about essential oil for humidifier when sick because this is one list that I keep getting the most no. of requests for. 
Best essential oil for humidifier when sick:
As we've mentioned time and again, health benefits are a leading advantage of using essential oils in a humidifier. However, some of them are better suited for sickness than others. Some of the best essential oil for humidifier when sick are as follows:
Eucalyptus, Peppermint and Tea Tree:
Both are recognised for their antimicrobial properties, making them great for air purification purposes. Along with just cleaning up the air you breathe in, they're adept at relieving nasal congestion and providing relief from respiratory ailments.
Lavender:
Known for its relaxing aroma, Lavender brings with it a sense of soothing and calmness that helps you recover from sickness quicker by boosting your body's innate healing process. 
By now, I suppose you have a pretty good idea about choosing the right aroma oils. With this knowledge, I also recommend you to develop a deeper understanding of humidifiers. 
The next section of this blog is going to cover that for you!
Understanding Humidifiers
Simply put, humidifiers are devices meant to maintain your surroundings' moisture levels. Their usefulness really depends on the climate of where you live.
For somebody like me living in a humid state like Maharashtra, humidifiers make as much sense as raincoats in the Thar desert. 
For the people that do live in hot and dry areas however, humidifiers can make a world of difference.
Adjusting the moisture levels in the air around you can alleviate chapped lips, dry skin, and help with respiratory ailments like allergies, asthma, and sinus.
There are various types of humidifiers out there in the market today, there's something for everybody. The types of humidifiers are static, however. They consist of, but aren't limited to:
Central Humidifiers
They are inbuilt into your central HVAC system.
Ultrasonic Humidifiers
With the help of ultrasonic vibrations, water drops are broken down into a fine mist and dispersed into the air.
Evaporative Humidifiers
Air is blown through a wet filter/wick, thus using evaporation to increase the humidity.
Steam Vapourisers
Water is boiled to produce steam and then released into the air. Since boiling is involved, the resulting steam is rather free from impurities and infections and thus finds use in medicinal scenarios as well, especially when it comes to alleviating respiratory issues.
Maintenance: Taking Care of Humidifiers
While you must be excited to try these best essential oils for humidifiers in 2023, I would request you to pause for a moment and understand the maintenance of your device first. 
As beneficial as they are, humidifiers come with their own set of maintenance requirements too.
For example, letting steam vapourisers run for too long puts the plastic tray/mesh inside at risk for melting, resulting in plastic fumes being diffused into the humidifier's air.
Irregular cleaning of meshes and airways in a humidifier can lead to bacterial and fungal growth. This can lead to respiratory issues, which is the exact opposite of what a humidifier should be able to do.
When all is said and done, we come to another question:
Why are we so interested in humidifiers suddenly?
It's because amongst all these features and benefits, the ability to diffuse essential oils is also a part of the commonly found feature list.
With essential oils picking up buzz over recent years, products helping us consume the same have also garnered interest as of late and for good reason, given the price of essential oils, I would also be very particular of the products that allow me to fully utilise and reap what essential oils have to offer.
Can you put essential oils in humidifier?
Yes, depends on the humidifier you use though. If it's not compatible to use then you'd not only waste precious amounts of essential oils but also risk damaging your humidifier, which is really just a lose-lose situation.
As of late, however, most companies have provisions to put essential oils in a humidifier. This is done with the help of a separate tray, or a compartment made specifically to put essential oils in a humidifier.
How to use humidifier with essential oils: Making the most of your essential oil diffuser/humidifier
For proper results from humidifier usage, you need to make sure your usage is just as proper too.
Make sure to use your essential oils sparingly, since essential oils are strong to begin with. A couple drops is all you'll need.
Your essential oil needs to be of top-notch quality, free from additives. This ensures no ill-effects on your health, or your devices with usage over time, which is a plausible risk owing to the presence of additives which may not sit right with you or your device.
With all the provisions made lately, you can put essential oils in a humidifier, but with usage there is bound to be residue left in the device.
Make sure to regularly clean it to avoid buildup and ensure the device's performance isn't hampered.
Precautions & Safety Guidelines For Best Essential Oils For Humidifiers 
Even with ticking all the right boxes for best essential oils for humidifiers in 2023, there is still one factor that needs to be taken into consideration: human preference.
All of us are distinct humans with our own preferences, sensitivities, and allergies. How we perceive the aroma of an oil is also instrumental in determining the effectiveness of diffusing it.
Your favourite aroma may be the one oil I'm allergic to for all we know. 
It is therefore necessary to observe your surroundings once you begin to use any particular oil and diffuser to ensure if you can continue to keep using or if you need to change things up.
Conclusion for 11 best essential oils for humidifiers in 2023
Here are my concluding thoughts for best essential oils for humidifiers in 2023. 
Whatever essential oil and diffuser/humidifier you choose is up to you honestly, there is no such thing as a good or a bad choice.
It's relative to what your body likes and rejects, simple as that. You might like Lavender, but your family might prefer Bergamot.
Neither is above the other and it all boils down to personal choice and health requirements. 
What you do have to keep in mind, however, is that regardless of whichever oil you choose, you must take special care in handling, especially with diffusers.
Make sure your device can use essential oils without any damage to the device. When using essential oils, ensure you're using the prescribed amount as excessive usage can also be dangerous for you.
If you have pets or animals close to your living spaces, it is recommended to not use essential oils as their bodies are not equipped to handle their chemical composition, thus posing a health risk to them.