The Definitive Guide To Best Carrier Oils For Reed Diffuser
Aparajita Tiwari
·
September 05, 2023
Do you want to make your own reed diffuser blend using essential oils and carrier oils? 
Of course, you do. After all, making your own blend means saving tons of dollars spent on refilling your diffuser bottles.
However, selecting the best carrier oils for reed diffusers can be quite intimidating with the vast options available out there. 
You need proper instructions, comparison and list of oils that have been proven to work with all kinds of diffusers. 
So today I am going to talk all about DIY diffusers and share with you 21 best carrier oils for reed diffusers.
And that's not it, I will also share a bonus list of cheap carrier oils that you can easily source. 
By the end of this blog, you will understand what reed diffusers are and how to create blends for reed diffusers using carrier oils and essential oils. 
I will also highlight the mistakes I made so you can avoid them. 
Get ready to win the reed diffuser game with carrier oils! 
What Is A Reed Diffuser?
Reed diffuser is a product used to disperse fragrance in the homes. It consists of a glass jar with a small opening where reed sticks and fragrance oil are put. The aroma particles evaporate in the air through these sticks, thus making the surrounding atmosphere smell wonderful. 
The main component you need to understand here is reed sticks. 
Reed Sticks
Reed sticks are your messiah if you've been facing the same budgeting problems as me. They are a natural diffuser made out of natural rattan or bamboo skewers.  By making use of their porosity, they can absorb essential oils and diffuse them into the room by way of capillary action
How Do Reed Diffusers Work?
The process at work here is capillary action. The fragrance particles travel through the porous sticks and travel to the top of the sticks. The aroma then leaves the tip of the sticks and evaporates in the air. This makes the air around it smell of the fragrance.  
Why Use Reed Diffuser For Carrier Oils?
Did you know that reed diffusers captured 30% of the home fragrance market in 2022? 
And this share is expected to grow in the coming years. 
But what makes this simple product so popular?
Even though they are essentially analogous in terms of their performance, they can be a great alternative on multiple fronts. 
Reasons that make reed diffusers so popular include:
They occupy less space.

They are safer to use compared to other types of diffusers and humidifiers as no electricity or fire is involved. 

They are low maintenance. Once you set them up, there isn't much that you need to do. 

Cheaper in terms of cost. 

They give a consistent output of fragrance

Eco-friendly and sustainable to use as they are completely reusable. The sticks are also environmentally friendly as they are made of bamboo. 

They do not leave any smoke behind.  
However, there are a few cons that come with it too.
Unlinke electronic diffuser, you can not control the intensity of their performance. 
So if you're going out of the house the diffuser won't stop working, resulting in oil wastage. 
For such scenarios, you can simply remove the oil and store it in an airtight container for later.
Types Of Reed Diffusers You Can Use With Best Carrier Oils
With a few variations here and there, some of the most common types of reed diffusers you will find in the market are:
Classic
They usually have a glass or ceramic base and you can put simple reed sticks in it. You can get them in all kinds of fragrances, fruity, woody, musky, floral etc. 
With Built-in Timers
Some diffusers also have a built-in timer. This allows you to control the time and the intensity of aroma. This control can help you save the essential oils and make it last longer. 
Odor Neutralizing Reed Diffusers
If the odor of pets in your home troubles you, then this option is for you. They are designed not just to spread scents but also to neutralize foul odour in the house.
Role Of Carrier Oils In A Reed Diffuser : Do You Even Need Them?
Electric diffuser make use of water or water soluble essential oils to dilute the oil in mist. Similarly, reed diffuser requires carrier oils to dilute the essential oils. Pure essential oils can have a very strong aroma and are expensive too. 
By diluting them in suitable carrier oils you can make the fragrance softer. Another great reason for you to use carrier oils with reed diffusers is that they make the oils travel easily through the sticks. 
Yes, that's correct. The viscosity of some essential oils can make it difficult for them to travel up the sticks. This is where good old carrier oils come to the rescue. 
They balance out the viscosity and make the diffusion seamless. 
Another great reason is scent stabilization. Just as the name suggests, when you use the diluted oils, they will not quickly evaporate. Rather, you will observe that it releases the fragranc slowly and over time. 
Overall, using  carrier oils can result in saving money, having reduced sensitivities and a stable fragrance. This is how carrier oils positively affect aromatherapy. 
Ready to try them?
21 Best Carrier Oils For Reed Diffuser
Detailed below are twenty one of the best carrier oils for reed diffuser in 2023
Jojoba Oil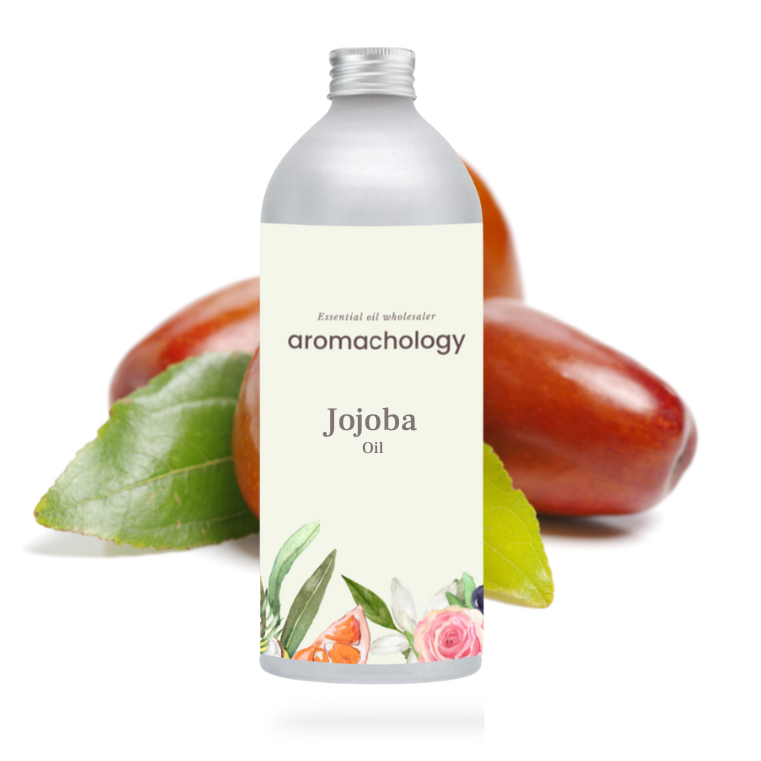 Jojoba is highly versatile oil and is one of the best choices as a carrier oil for reed diffusers. It is recommended due to its properties such as:
Neutral scents: Allows the essential oil to be the hero with no competing scents. Ensures your atmosphere smells the way you intended it to.

Lasting Life: Reed diffusers can run for a long time. Jojoba has an excellent shelf life. This ensures you can use it for long a duration without running the risk of oils spoiling. 

Consistency: With a molecular structure similar to our skin's natural oils, it's easier for the reed sticks to absorb as well, resulting in higher efficiency.

Versatility: It can work with a variety of essential oils, removing the need to keep multiple carrier oils for each essential oil.
Grapeseed Oil
Similar in properties to jojoba, grapeseed is another economic choice you could spring for with no inhibitions:
Neutral scents: Being odourless, it allows the essential oil to be the hero with no competing scents. Ensures your atmosphere smells the way you intended it to.

Shelf life: A long-lasting life ensures your carrier oil going spoilt won't be the reason you switch oils.

Skin-Friendly: While changing reed sticks, it is common to get some oil on your hands. Grapeseed oil isn't harsh on your skin, so that isn't a problem either.

Affordability: Doesn't cost a bomb, and does what a carrier oil is supposed to do. Doesn't get much better than this.

Quick absorber: With a high speed of absorption, you can diffuse the aroma quickly. An oil mix that gets to work quicker is nice to have.
Hazelnut Oil
While it has a repute for its usage in skincare, hazelnut oil also has a fair few properties making it ideal for diffuser reeds:
Aroma: It has a nutty aroma which is very light. You can use this aroma smartly and create a fusion scent. 

Quick Absorption: A high rate of absorption ensures it diffuses into the surroundings quickly.

Versatility: Its versatile nature means you can use it with a variety of oils!

 
Fractionated Coconut Oil
It is transparent in color and has a neutral fragrance which will not interfere with the aroma of of your essential oil. This is even a very stabilized oil and has a long shelf life so you can buy it in bulk.
Sweet Almond Oil
If you are in a mood to make a luxurious blend then try sweet almond oil. Its rich and slightly sweet aroma will make any blend luxurious and soft. It's quite versatile too, which means you can use it with a wide range of essential oils. 
Almond oil is obtained from almonds, like duh, which makes it a completely natural option. When it come to absorption, you won't have to worry as it will work effortlessly with the reed sticks.
Safflower Oil
While is a popular carrier oil, safflower is not something that you would commonly use in a reed diffuser. Its lightweight nature makes it perfect for the capillary action. You won't have to think twice before adding essential oils to it as it has a very mild aroma of its own. 
Use it confidently with blends involving lavender, lemon, orange, lemongrass, and frankincense. 
Rice Bran Oil
Compared to other carrier oils, rice bran has a stronger fragrance. Hence, I would recommend you to use it with specific essential oils only like eucalyptus, tea tree and patchouli. If you want to try mixing some other essential oils then keep in mind that it has a nutty fragrance and don't forget to try out a sample blend before you go all in. 
Argan Oil
Ah, a skincare favorite. But should you use it with a diffuser? The answer is maybe. While argan oil is excellent for skin and hair, it has a strong scent of its own which will interfere with your blend. It is up to you if you can use this scent and merge it in a way that it complements the essential oils. 
Apricot Kernel Oil
I would recommend using this one if you can understand the nutty and sweet aroma of apricot kernel oil and figure out how to blend it with other essential oils. You can play around with oils like chamomile, geranium and bergamot when using apricot oil. Sometimes I like to mix it with ylang ylang too. It can be a very interesting addition just remember to keep in mind it's sweetness while preparing the blend. 
Rosehip Seed Oil
This one is for my adventurous souls out there. Not many would dare to put in a diffuser but then again, great things are discovered by those who try. It has a distinct smell but instead of running away from it, I would rather recommend using it to your advantage. 
Mix it with essential oils like sandalwood, cedarwood, or frankincense. You will notice that rosehip has elevated the earthy aroma. It is also great to explore cedarwood essential oil spiritual benefits. 
Having said that, let's not forget that rosehip has a comparatively shorter shelf life. How that matter? It will evaporate quickly from the jar. 
If you've got a few extra bucks in your pocket then please go ahead and experiment. 
Sunflower Oil
Sunflower oil is derived from the seeds of sunflower. You might have used it in the kitchen extensively and now if you are thinking if you can try it out in a diffuser then please go ahead, you have my blessings. But let's not forget that it is not completely odorless. 
Even if you are okay with the smell, it's viscosity could be another issue. It is not so light that it can easily work with the capillary action. Choose the lighter variety of this oil as it will make any blend richer. 
Avocado Oil
It has great benefits for skincare and cooking. It also has an 'almost' odorless scent which means it won't interfere with your blend, well mostly. However, avocado is relatively thicker in terms of viscosity. This might make it a challenge for the scent to diffuse easily. It also has a decent shelf life so you don't have to worry about refilling often. 
Black Cumin Seed Oil
Surprised to see cumin seed oil make it to the list? 
If you are looking to create a spicy and earthy blend then you can select this. Its great for those exotic scents where you want to spice things up a bit. The viscosity is fine and won't make it a struggle. However, the shelf life is comparatively small so be prepared to constantly refill. It also detoxifies the environment it is diffused in. 
Evening Primrose Oil
Evening primrose oil is derived from Oenothera biennis plant and is known for its health and skincare benefits. It is common knowledge that it is loaded with GLA), which is an omega-6 fatty acid. It is typically pale yellow to colorless in appearance. Mix it with essential oils like lemon, rosemary, geranium to create interesting blends. 
Pro tip: Save some for skin care too.
Cheapest Carrier Oils For Reed Diffuser
Mineral Oil
This is the most commercially used oil in diffusers. If you are not too concerned about the oil being derived naturally then you can go for mineral oil. It is cheap, effective and works well with almost all essential oils. You can easily find it in any grocery or crafts store near you. It is mostly odourless and colorless. Which means, you don't have to worry about it affecting the aroma of your blend. 
Keep in mind that there are different grades of mineral oil available so discuss with your supplier and identify the option that works best for you. 
Glycerin
A great cost effective and efficient option for the base. It is colorless, odorless and perfect in term viscosity. Now you might argue that glycerin is not a carrier oil. Yes, its not but it is undoubtedly an excellent choice for the base and a great substitute for carrier oils in reed diffusers. 
Can I use baby oil as a carrier oil?
You can, but you SHOULD NOT. Baby oils have mineral oil as a base which is okay for diffusion. But, it also has other chemicals mixed in it. As a result,  the rate of diffusion and absorption would be bad. These chemicals would keep it from performing as it should. It would be a waste of your essential oils and I would hence recommend you NOT try this mix.
How To Choose The Best Carrier Oils For Reed Diffuser: Points To Keep In Mind
When it comes to choosing the best carrier oils for reed diffusers, there is no singular best option. 
There are, however, multiple viable choices one can choose from. 
You should decide the viability  on the basis of certain properties like:
Scent: Select an oil that has a light and neutral scent. This way you can allow  the essential oil to take the focus without any interference.
Absorption: Thick consistencies mean the oils have a slow rate of absorption and hence lower efficiency in spreading the aroma. Hence, check the consistency of the oil before buying. 
Shelf Life: You want an oil that has excellent shelf life. This is necessary as carrier oils are generally purchased in larger quantities and you wouldn't want them to expire. Can't have your sidekick giving up on you mid-diffuse now, can you?
Skin-Friendly: Changing reed sticks may mean your hands come in contact with the oils. Choosing a skin-friendly carrier oil ensures that's always going to be a healthy experience for you.
Cost: Since you're going to use it in larger quantities, it should be cost-effective as well. Can't have my carrier oil costing a prettier penny than my essential oil now, can I?
What is the ratio of essential oils to carrier oil for reed diffuser?
Carrier oils and essential oils are generally placed in a 70-30 ratio. 
For roughly 100 ml it would be advised to mix in 20-25 drops of essential oils. 
You can experiment as per your preference of course but it is recommended to play it safe as essential oils are naturally very potent and can be overpowering.
All essential oils are different in terms of potency, aroma and thickness. Hence, you can not blindly follow a dilution ratio. Remember to adjust the concentration of essential oils as per the need. 
Just like the oils, all humans are different too. Each one of us has a different preference for fragrance strength.
Understand the people and animals sharing your space and adjust the dilution ratio accordingly. Add more carrier oil if you prefer a soft and mild smell. 
Additionally, the weather can play a crucial role in determining how much carrier oil you should add to reed diffusers. Colder regions might require more essential oil to be added than warmer regions.
Similarly if you are in a tropical area where the humidity is high, I would recommend adding more essential oil. A stronger scent will help neutralize the odor build up
Blending Instructions & Hacks
Blending oils for reed diffusers is no rocket science. You just need to keep some basic steps in mind. 
Understanding notes of all your oils will make or break your blend. 
A few factors that can help pick the right scents are:
The purpose and the mood you want to go for. 

The space where it will be used 

The climate of your region

Personal preferences like some prefer woody while some can't tolerate woody

Whether the selected oils work in harmony with each other

Therapeutic benefits you want to achieve

Presence of cats, dogs or any other pets

Allergies, if any
Should I dilute essential oils for reed diffuser?
Yes, diluting essential oils is very important, especially when using reed diffusers. This will give you a more consistent, softer and safer aroma. Very potent oils can sometimes cause some sensitivity, so always use a diffused blend. 
Additionally you can get your essential oils to last longer by diluting them with carrier oils. 
How Do You Create A Luxury Reed Diffuser Oil
Luxury is less about how expensive it is and more about how you flaunt it (you gotta slayyyy), but obviously, the choice of ingredients in your reed diffuser oil goes a long way.
A high-quality carrier oil (Jojoba), paired with an essential oil associated with luxury (sandalwood, bergamot, ylang-ylang) is the way to go. 
The oil pairing isn't all that's there to it though. You need to flaunt it, luxury is ALSO about the aesthetic y'know?
A decorative ceramic container paired with decorative reed diffuser sticks is all you need to complete your luxury reed diffuser set.
Which fragrance is best for reed diffuser?
Seven best fragrances for reed diffusers are:
Lavender: For calm and serendipity
Rose & Jasmine: For love and romance
Clove: For detoxifying
Cedarwood: For grounding and centering
Ylang ylang and Vetiver: For stirring up some heat in bedroom
Lemon: For energising and creating a fresh vibe
Tea tree: For keeping insects and pests away
DIY Reed Diffuser Recipe: Simple And Effective
What you need:
A clean glass or ceramic container. Don't select plastic ones as they can damage the oil
Reed or bamboo diffuser sticks
Essential Oils 
Carrier Oil
The oils can be chosen on the basis of your preference. I have shared some aromatherapist approved recipes at the end of the blog. 
Dropper (optional)
Steps:
Clean and dry the glass or ceramic container.
Fill it with the selected essential oils and carrier oils using a dropper. Mix all the oils well until you get a seamless consistency. You will have to adjust the blend as per you liking so start small. 
Once you are satisfied with the aroma, note down the details of ratio of oils for refilling in the future. 
Insert the reed sticks in the container. The mouth of the container should be upto 90% covered with sticks. This will make sure that your oil lasts long. 
Clean any spillage on the container to avoid staining. And your diffuser is ready! 
For maximum benefits, remember to flip the reed sticks every few weeks. 
Also, make sure to check the oil quantity after 2-3 weeks. Refill whenever required. 
Reed Diffuser Blends Using Carrier Oils And Essential Oils
Energising Blend
If you need to get pumped up for the day ahead, nothing says pick me up like a citrus blend! Lemon, peppermint and eucalyptus are a jazzy triplet to get you up and about.
20-30 drops of these mixes in 100mL of any carrier oil would be a great experimental place for you to start with. Adjust the ratio as per your preference, this is just a generalized concentration that should be safe for everyone.
Goes without saying, make sure you consult your physician and check for allergies before using essential oils in such capacities to avoid any health issues.
Romantic Blend
3 drops of Rose
2 drops of Jasmine
1 drop of Ylang ylang
Desired carrier oil
Tips To Get The Most Out Of Best Carrier Oils For Reed Diffuser
Place It Wisely
The placement and size of the room in proportion to the diffuser needs to be taken into account. Always place your diffuser in the centre of the room to spread the fragrance evenly. If placing it in the centre is not feasible then you can place it next to the air flow. Do not place it on the floor as there are chances of spillage or pets ingesting it. Sunlight is great for you but not for your diffuser, keep it away. 
Goes without saying that the surface should be stable, you don't want to diffuser to fall and break. 
Size Matters!
The size of the room is directly proportional to the no. of reed sticks and diffuser size. 
You can refer to the following guide for the no. of sticks
Small Room: 3-5 sticks
Medium Room: 6-10 sticks
Large Room: 15 sticks
You might need to place two diffusers in a large room. 
Taking Care Of Your Reed Diffuser 
Effective care will make your diffuser work well and last longer. 
Remember to flip the reeds every few weeks. You might even need to replace old reeds with new ones every 2 months or sooner.I recommend buying reeds in bulk and you can store the extra ones in a cool and dry place. 
There are coasters designed specifically for these diffusers. You can either get them or use any general coaster under it. Just not the slippery ones. 
How can I make my reed diffuser smell stronger?
Do you like the scent in your space to be strong? Then you can use the following hacks to make your reed diffuser smell stronger. 
More is less: The simplest hack is to add more reeds. This increases the surface area for the fragrance area to evaporate from and in return strengthens the aroma in your room. 
Go big: As basic as it sounds, switch to a bigger container. By ensuring a broader opening of the jar you can provide more area for the oil to get exposed and also more space for reeds. 
Quality is the key: I can not emphasize enough on the importance of essential oils' quality. Using pure, natural and high grade oils can lead to a better quality and stronger fragrance. 
Try Warming The Scent: This hack can give you instant but short term results. Place the oil container in a warm water bowl for 5-10 minutes. The temperature of water should not be very high. Take it out and use as usual. You will notice better diffusion of the oil post warming. 
Concluding Thoughts On Best Carrier Oils For Reed Diffuser
No matter which essential oils you use, using best carrier oils for reed diffusers is important to win at aromatherapy. 
It gives you safety, quality, more time and freedom to explore. 
I have shared a variety of carrier oils you can experiment with and have also explained how to use them wisely to get the most out of your reed diffusers. 
Moreover, I have also shared diy reed diffuser recipes and hacks to make the reed diffuser smell stronger. 
But is just reading enough? Definitely not! Put on your perfumery and aromatherapy caps and begin experimenting. 
I am excited to know about your experiences with carrier oils in reed diffusers.